For many avid drivers, owning an Audi is a life goal. Boasting fantastic interiors with added comfort and style, each Audi is a luxury vehicle that doesn't sacrifice exceptional performance.
However, as with any car manufacturer, Audi and its range are not immune to engine problems.
Watch out for head gasket issues in Audi A-models
Head gaskets are put under an immense amount of pressure in a vehicle's engine, and Audis are no exception. In our experience, although Audi A6, Audi TT and Audi Q7 head  gaskets can have trouble, Audi A3s and Audi A4s seem to suffer the most with head gasket issues. Left unchecked, this can risk a blown head gasket – costing you thousands for the labour and replacement parts.
Many experienced Audi owners also recommend replacing the water pump at the same time, as Audi A-models seem to have history of water pump failures too – so this will only add to the expense of fixing your Audi.
How to prevent a blown head gasket in an Audi
Keep an out for white smoke coming from the exhaust – along with the other common symptoms of a blown head gasket – to catch the problem before too much damage is done. Then all you need is a bottle of K-Seal to seal the leak and get you get you back on the road, fast.
Pick up a bottle of K-Seal today
Why Audi A4 radiator and coolant leaks are common
Some owners also report radiator leaks, or coolant leaks in their Audi A4s. In particular, a number report their Audi A4 having a coolant leak behind the engine. This seems to be a regular issue coming from the rear coolant flange when the O-ring gives out.
As a specialist head gasket sealer and radiator leak repair, K-Seal is carefully designed to prevent head gasket, coolant and radiator leaks in your Audi by sealing up:
Holes up to 0.635mm / 0.025in in diameter
Cracks up to 0.254mm / 0.01in wide by 12.7mm / 0.5in in length
That means that for the most part, issues like this radiator leak with an Audi A4 can be rapidly fixed with a bottle of K-Seal. Simply shake your bottle, pour the contents into the radiator or header/expansion tank and leave the engine idling so K-Seal can work its way through the system.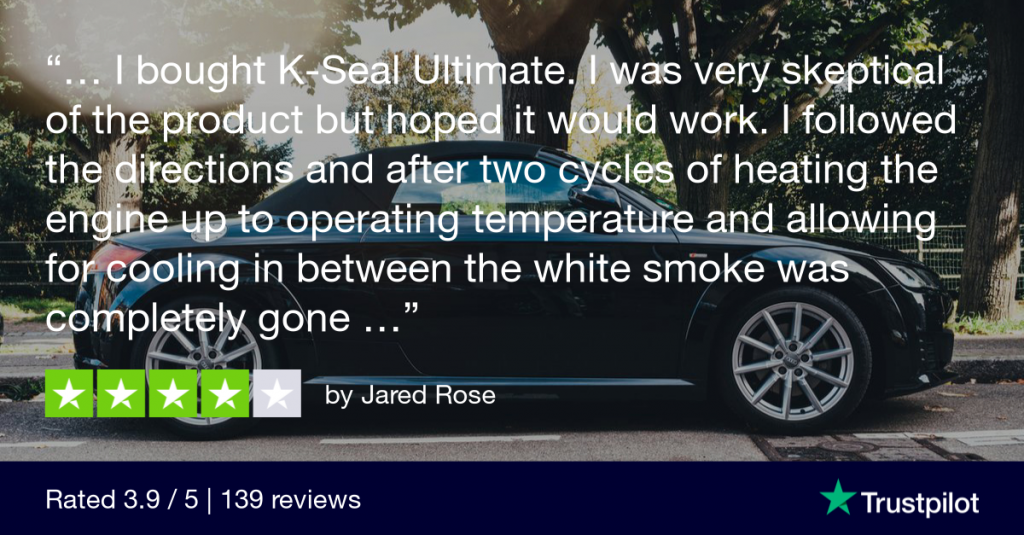 Before you know it the seal will be fixed and you can rest easy knowing the problem is permanently fixed!
Find a K-Seal stockist near you
Common Audi engine problems K-Seal can't fix
It's always worthwhile having a bottle of K-Seal in the back of your car, just in case. However, there are a few common Audi engine problems which unfortunately K-Seal will not be able to help you with.
Problems with the Audi VW engine 1.5 TFSI
Some owners have reported serious 'kangarooing' with their Audis, with juddering causing the car to buck back and forward when pulling away, forcing drivers to quickly dip the clutch again to prevent the problem continuing. This is related to ongoing problems with the Audi VW engine 1.5 TFSI, and not a problem that K-Seal is able to fix. It's best to get in touch with your local dealer to take a look instead.
Oil-related engine problems with the Audi Q5
Sometimes the 2.0-litre petrol engine on pre-facelift Audi A5s is known to consume a lot of oil, which you need to keep an eye on to prevent engine problems down the line. It's not unusual for drivers to assume that this is because the oil is leaking – something K-Seal unfortunately cannot fix – but if you can't find any evidence of oil leaking then this is the likely reason for your oil level dropping so quickly.
Hear from happy Audi owners who used K-Seal
Could other parts of my Audi's engine be affected?
K-Seal is designed as a head gasket sealer and radiator leak repair, so obviously it's best suited to fixing coolant leaks, radiator problems or blown head gaskets. But there's plenty of other issues Audis can suffer from.
Audis are known to experience oil leaking from the valve covers or gasket seals. Aside from being an obvious fire hazard, left unchecked this can cause serious damage to your engine and its electronics. Other common issues include the exhaust leaking due to the flexible joins found in most Audis getting weathered over time and beginning to leak, or
trouble with the water pump – so watch out for these issues too, just in case.
Knowing your engine could make all the difference
Select an engine part in the interactive diagram below to explore a typical car engine and the important components that keep everything ticking over.
Click on the engine components below for details
More Info »
Still not sure what the problem is?  Try our 60 second problem solver to quickly diagnose any issues.