Whether you use it every day on the farm, or for tasks that need something a little more heavy duty, the moment your tractor breaks down can be a nightmare. Especially when it's due to a blown head gasket.
However, spot some of the common tractor head gasket symptoms early, and you could prevent the need for a costly head gasket replacement.
Replacing a head gasket in a John Deere tractor, for example, can cost upwards of £1,600. And that can hit you hard in the wallet, while holding up work you desperately need your tractor for too.
Signs of a blown head gasket in a diesel tractor
Diesel engines are the engine of choice for most tractors, but even these reliable engines can suffer head gasket issues.
Signs your diesel tractor has a blown head gasket include:
Radiator constantly needing to be topped up with water or coolant
An increased engine running temperature
Engine gauge showing maximum temperature after a few minutes
A cloud of exhaust fumes when idling, or white smoke coming from the exhaust
Coolant clearly leaking onto the ground beneath the head gasket
Bubbles forming in the radiator and reservoir overflow
Milky discolouration of the oil
Notice any of these head gasket symptoms in your tractor? Then this is a sign your coolant is either leaking into the oil, or out of the engine altogether. This risks the engine overheating and causing irreparable damage to your tractor's head gasket.
To prevent expensive repairs, you need to get these issues fixed, fast!
How to repair a tractor with a blown head gasket or leaking coolant
The best way to fix a blown head gasket in a tractor is with a specialist tractor head gasket sealant.
In the video above, K-Seal is used to keep a vintage tractor going – even after it develops a coolant leak.
All you need to do to get the same result is shake a bottle of K-Seal HD for 30 seconds, pour it into the tractor's radiator or expansion tank, and run your engine as normal. Before you know it your tractor will be fixed and ready to get back to work!
Models of tractors that tend to suffer from head gasket leaks
Some owners have reported particular problems with head gaskets in Ford tractors, such as the Ford 1910 and Ford 5000. Kioti tractor head gaskets have also been known to suffer similar problems, although this could also be due to faulty water pumps, blockages in the system or dodgy coolant.
Blown head gaskets aren't restricted to just these makes or models though. Other popular tractor engine manufacturers – such as John Deere and Perkins – can also suffer from head gasket issues or coolant leaks. Sometimes it's just down to overworking the engine, or plain bad luck.
K-Seal comes to aid of 58-year old Fergie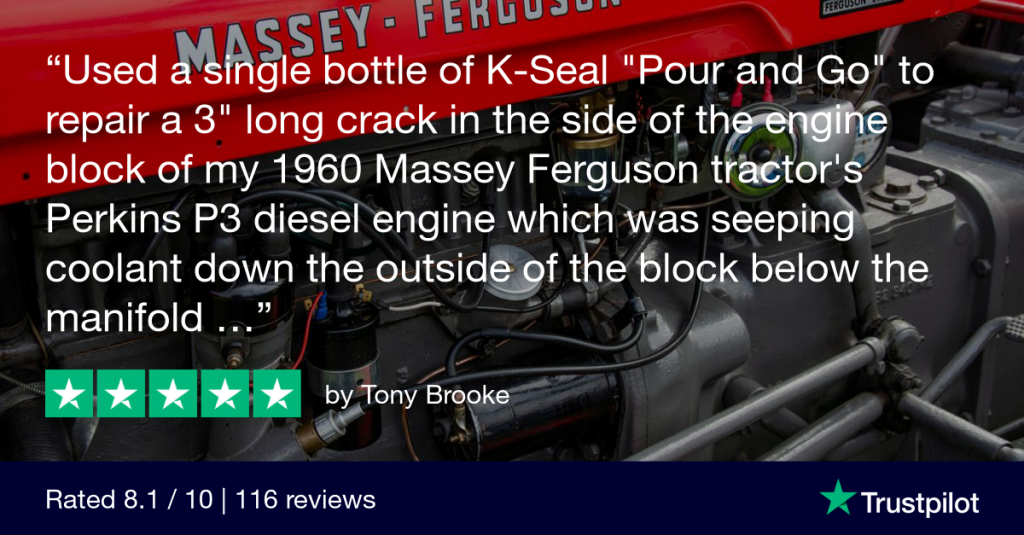 Are older tractors more likely to suffer head gasket issues?
Older vintage tractors often don't have a temperature gauge, so you've got to keep an eye on the engine's temperature to make sure you aren't losing coolant.  Fail to do so, and you could be risking a blown head gasket.
What is the best head gasket repair liquid for tractors?
K-Seal HD is the best head gasket repair liquid for tractors, especially when it comes to coolant leaks.
A more heavy-duty version of the K-Seal head gasket sealant, K-Seal HD fixes most leaks in water-cooled engines and is designed specifically for tractors, heavy plant and other commercial vehicles such as HGVs.
Want to get your tractor back up and running, fast? Find your nearest stockist of K-Seal HD today.
What our customers say