Like most Japanese cars, Nissans are known for their longevity and reliability. However, there are inevitably some unfortunate exceptions in their range.
For example, some owners of the 1.2 litre Nissan Qashqai have been driven mad by engine failures related to mechanical and oil problems – sometimes even leading to the entire engine having to be replaced. These kinds of issues are usually covered by the manufacturer, but a number of other Nissan models suffer regular engine problems which it's far easier to fix yourself with a bottle of K-Seal.
Pick up a bottle of K-Seal today
Nissan Altima head gaskets have a history of issues
Along with a long list of other issues, blown head gasket symptoms are common in Nissan Altimas – particularly in the 2002 and 2007 Nissan Altimas. If you notice any of these symptoms, your Altima almost definitely has a blown head gasket:
A loss of power or speed
Milky, discoloured oil
White smoke coming from the exhaust
Sudden drop in coolant levels
Liquid dripping on the ground beneath the head gasket
Left unchecked, a blown head gasket can cause major damage to your engine. But with a bottle of K-Seal, all you need to do is shake the bottle for 30 seconds, pour it into your coolant and run your engine for a brief time. Before you know it, these symptoms will disappear and your Nissan Altima's head gasket will be completely fixed – saving you up to $2,000 on a head gasket replacement!
2001 Nissan Pathfinders can also suffer from head gasket issues
Similar to the models of Nissan Altimas mentioned above, we've also found that the 2001 Nissan Pathfinder tends to suffer from blown head gaskets more often than you might expect. Again, the easiest way to seal that leak fast is with K-Seal.
Common Nissan Navara diesel engine problems you may encounter
Considered one of the least reliable car models around, it's no surprise that K-Seal is often used to treat Nissan Navara engine problems too.
From blown head gaskets to white smoke coming from the exhaust, owners of Nissan Navaras can encounter problems with its cooling system. Left unchecked, this can cause major damage to the vehicle that leaves you with the high cost of replacing your head gasket.
However, catch it quick enough by diagnosing some of the tell-tale symptoms of a blown head gasket and a bottle of K-Seal could quickly fix the issue. That's some significant time and money saved after just a simple shake, pour and go!
Find a K-Seal stockist near you
Can K-Seal fix a ruptured radiator in a Nissan Navara?
Another common Nissan Navara engine problem is that the radiators can rupture internally. This risks the engine coolant leaking into the automatic transmission and damaging the electronic controls inside, resulting in a loss of reverse gear.
Unfortunately, it's unlikely K-Seal can fix this. As a specialist head gasket sealer, K-Seal is carefully designed to prevent head gasket, coolant and radiator leaks by sealing up:
Holes up to 0.635mm / 0.025in in diameter
Cracks up to 0.254mm / 0.01in wide by 12.7mm / 0.5in in length
So while this is the perfect solution for most leaks, in this scenario a rupture is likely to be too significant to be fixed in this manner. Instead, get hold of your local mechanic so they can take a look!
Other Nissan models prone to coolant leaks
Noticed a coolant leak in your Nissan Murano or Nissan Xterra? Don't worry – K-Seal can fix this too.
Nissan Murano coolant leaks
Nissan Murano coolant leaks tend to come from the reservoir or from the hoses. The 2015 model is particularly culpable of this, with coolant leaks most likely to occur where the hoses connect to the engine.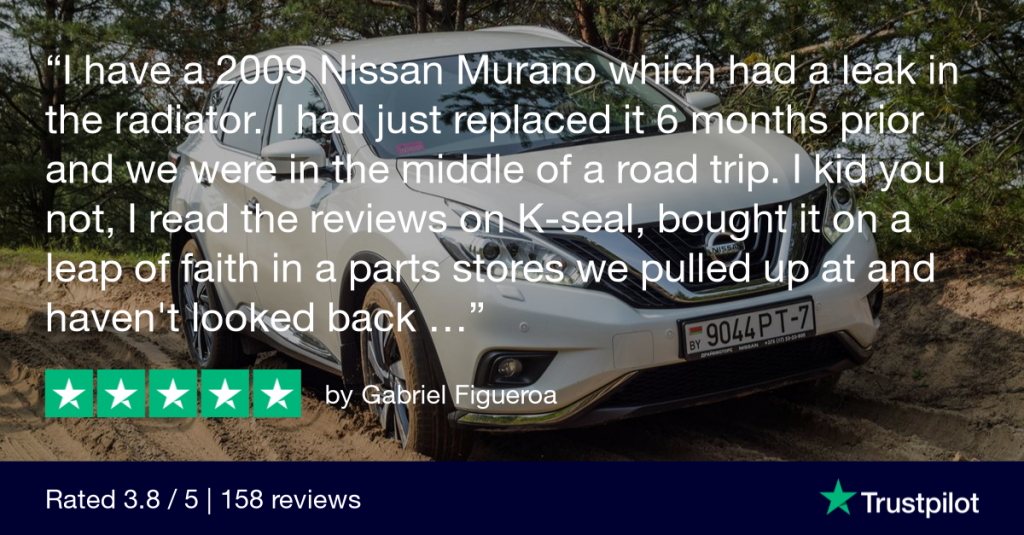 Nissan Xterra coolant leaks
The biggest problem with Nissan Xterra coolant leaks is the damage they can do to your car. A number of owners have reported that their 2006-2007 models have suddenly stopped working because of coolant leaking into the transmission, causing the transmission to fail.
A known issue, this has forced some owners to fork out up to $3,000 or more in repairs! That's why it's important you catch it quick: keep an eye on your coolant levels and if you notice a dip, a bottle of K-Seal can seal up the leak quickly and permanently.
Get that coolant leak fixed fast
Hear from happy Nissan owners who used K-Seal
Could other parts of my Nissan's engine be affected?
We've covered a number of common issues that your Nissan might suffer from, but there can always be other engine problems you might not expect.
Nissan Micras, for example, need to be regularly pushed to their upper limits on an open road, or they could suffer a loss of engine performance. A lack of antifreeze can also cause their head gasket to blow all too easily.
As with any vehicle, Nissans can also suffer from oil leaks, problems with the thermostat or trouble with the water pump – so watch out for these issues too, just in case.
Knowing your engine could make all the difference
Select an engine part in the interactive diagram below to explore a typical car engine and the important components that keep everything ticking over.
Click on the engine components below for details
More Info »
Still not sure what the problem is?  Try our 60 second problem solver to quickly diagnose any issues with your Nissan's engine.